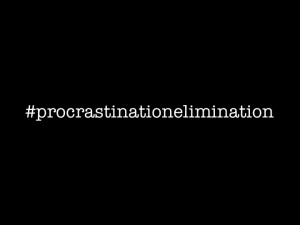 Last Sunday, Oakway United started a new sermon series entitled "One Day…Some Day."  This was inspired by a blog post from Pastor Steven Furtick.  For week 1, New Year's Day, the topic was procrastination elimination.  As a rural pastor, one of my goals is help people achieve their God given dreams.  Here are some great quotes I found on procrastination elimination:
"Until you value yourself, you will not value your time.

Until you value your time, you will not do anything with it." ~ M. Scott Peck-author of the Road Less Traveled
"You may delay, but time will not." ~Benjamin Franklin

"Procrastination is opportunity's natural assassin." ~Victor Kiam, former owner of New England Patriots and Remington
My text was Proverbs 12 this week.  For the most part, the word laziness is used because procrastination is just a fancy word for laziness.
"The best way to get something done is to begin." ~Author Unknown
There's never a better time to get a fresh start than New Year's.  Here are few books that inspired me to get started and stop procrastinating this year:
Listen to the sermon audio here or here. You can see the sermon notes on YouVersion and add your own thoughts.  Thanks for reading and listening.